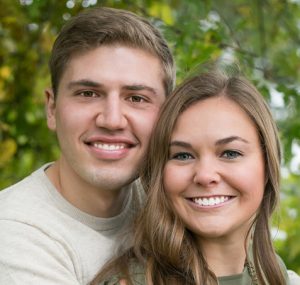 Reid & Chelsey Mornings 5-8a (Reid Magnum & Chelsey Lynn)
They're a radio couple who just also happen to be a couple.
Reid & Chelsey both attended Portage High School. When Reid was a Senior and Chelsey was a Junior they were both on Homecoming Court but had never met.  They were paired up that day and have been together ever since.  7 years later they got married July of 2019!
As for radio, Chelsey had this to say:
"You could say Reid was born for radio.  His dad started in radio when he was just 15.  Reid's dad & mom met at a radio station and then started their first station from scratch 28 years ago. Their family owned group has grown to 19 stations.  Now I'm part of the "fam" but I sure never thought I'd be on the radio."
Reid says it happened this way:
"Chelsey and I went to different colleges, so being together often meant Chelsey going with me when I had radio work to do.  When I did play-by-play sports broadcasts, Chelsey did game stats.  If I had to go do a remote broadcast at an event like a County Fair, Chelsey was often with me.  At some point, our conversations got onto the airwaves and it has just grown over the years from there."
Chelsey:
"I'm a people watcher and a people person plus I have a lot of natural curiosity.  Radio is all about people in one way or another so I guess we've got kind of a peanut and jelly thing going on here, if you know what I mean!"
Reid:
"Beyond her curiosity, Chelsey has an interesting take on things — nobody ever knows what she's going to say.  I've found out since she's been on the radio that I'm not the only who finds her take on life interesting.
Chelsey:
"Mostly, Reid & I talk about everyday life stuff that everybody talks about, – It just kind of tumbles out of our heads/rolls off of our tongues — It's fun!
Reid:
"But we try to never talk too long, because we know listeners are tuning in to hear some music to get them going in the morning.  So far so good, we really appreciate all of the encouraging comments we've been getting."
Chelsey:
"Yeah, thanks so much for reading this and for listening!"