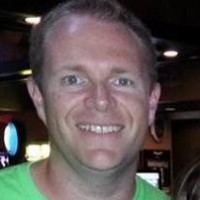 Hometown- Cottage Grove, Minnesota
My first break in radio came in 1995. I was working as a mobile DJ for a company that had offices in the basement of a radio station. One Sunday morning I went up to the air studio to visit with the girl that was running the Casey Kasem show. She asked me to watch the studio while she stepped outside. She accidentally locked herself outside of the building and didn't make it back in time to play the commercials and read the weather. So guess who did it for her? Well, the station program director happened to be listening and was nearby. He stopped in, brought us both into his office and yelled at her for letting me do that, and at me for having the guts to do such a thing. A minute later, he hired me! I guess he liked what he heard.
My radio career has taken me from Z99 in Mankato, Minnesota to ABC Radio Minneapolis, where I worked on a couple legendary stations (KEGE-FM 93.7 The Edge and KQRS-FM) and Zone 105; then to radio stations all over the country on a large national radio network. I have also worked in Michigan and have voiced hundreds of radio and television commercials. 20 years on the air, heard on over 80 radio stations from Hawaii to New York, not bad for a kid that had a stuttering problem!
There is absolutely nothing more important to me than my family. I am married to the love of my life, we have two beautiful children and recently purchased our dream home. My son has autism. While some days are frustrating, I feel that his diagnosis is a true blessing for our family. Being able to view life through his eyes has made me a more patient, understanding person; not to mention a better father.
As a family we donate our time and help raise money for non-profit organizations such as the Autism Society, the arthritis Foundation, St Jude's Children's Research Hospital and more.
I feel that this crop of newer talent in country music is probably the best we have seen in history! I know that may be a bold statement considering some of the timeless country artists that have graced this format, and I admire every single one of them as well, but these new artists are incredible! I am proud to play them for you every afternoon!
When I am not on the radio, I enjoy spending time with family and friends, fishing, hunting, and tipping a few cold ones back!